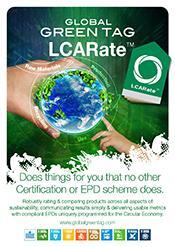 Global GreenTag LCARate™ goes beyond an Environmental Product Declaration ... it does things for you that no other Certification or EPD scheme can do. It is uniquely programmed for the Circular Economy.
Download a brochure
LCARate is a world's first, 'beyond LCA' Life Cycle Analysis (LCA) based rating system for progressive manufacturers who achieve benchmarks in product health and sustainability from 'cradle to grave,' providing a unique green marketing position and significant assurance of risk mitigation for professionals on green projects and end users.
Manufacturers who submit their exemplar green products to LCARate are required to provide a Full Disclosure of ingredients to enable our Assessors to look in detail at health and ecotoxicity and other sustainability assessment criteria.
The LCA part of this deeper certification process means that every impact of the product and its ingredients – and at every stage of life – is examined, from raw material extraction, processing and transport to product manufacturer, packaging, in use cleaning and maintenance, replacements and end of life disposal and recycling.

The LCARate Marks shown above are based on a weighted average of six sustainability assessment criteria and combined with a GreenTag GreenRateTM result go beyond 'pass/fail' outcomes of typical ecolabels to provide registered Certification Marks for US, Canada, Australia and South Africa.
For more information or to talk further about having your product assessed for LCARate, please contact:
How will you use GreenTag?
Manufacturers:
Make your product stand out, unlock the barriers to major markets.
Get Global GreenTag certification to stand out as a leader, differentiate your product from the pack and win in the rapidly expanding green marketplace.
Green consumers:
Create your own healthy, sustainable home, interiors and lifestyle.
Discover our work with the Beauty & Personal, Cleaning and Building & Interiors industries or find out more about GreenTag.
Global GreenTag certified products pass the world's toughest standards to protect you, and your family's health and safety, minimise your impact on our finite planet and put the power of selection back in your hands.
Professionals:
Save time and money selecting products that deliver and protect your business from risk.
Find out how Global GreenTag certified products pass the worlds toughest standards for health, eco performance and safety.
Recognised by major green rating schemes, GreenTag is your one-stop certification to choose for evidence product selections.