Product Health Declaration™ – The GreenTag PHD Tool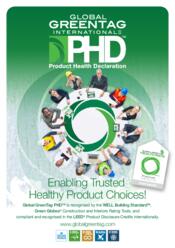 The Global GreenTag Product Health Declaration™ PHD is the first of its kind in the world – a rating tool recognised and compliant Material Health transparency tool that recognises progressive manufacturers who fully disclose the ingredients of their products and then goes on to rate the healthiness of the product in use.
Download a brochure
The GreenTag Product Health Declaration™ pushes for transparency to disclose chemical hazards in products used in workplaces and in homes too.
It is a globally relevant tool particularly for the green building industry. Importantly, it is formally recognised by the WELL™ Building Standard in 5 core WELL™ features and is also recognised by LEED® Versions 4.0 and 4.1. and by the Green Building Council of Australia's Green Star® rating tools.
"A GreenTag PHD essentially pushes the boundaries of product health certification to address human health concerns directly – it is the first system globally to assess the health impacts of the final product – and not just the hazards of the ingredients." – David Baggs, CEO & Technical Director, Global GreenTag International
A GreenTag PHD also provides a Global GreenTag HealthRATE™ Mark


The GreenTag HealthRATE™ mark clearly communicates for manufacturers, industry and consumers a measurement of the varying levels of healthiness of their products as well.
The extended version of HealthRATE™ the Global GreenTag Asthma & Allergy Sensitive™ certification (READ MORE) is undertaken in combination with the Global GreenTag Product Health Declaration (PHD™) and HealthRATE™ "Healthiness in Use' rating scheme.
The Asthma & Allergy Sensitive process involves:
Undergoing a separate assessment of products under the Asthma & Allergy Sensitive and HealthRATE processes, where manufacturers must provide 100 percent transparency of product information down to 100ppm of individual ingredients. Applying analysis of product information, deepens identification of products, as safe to be used, in environments, for people with asthma and allergy sensitivities.
All GreenTag certified products are considered healthy to use based on the best scientific information of today from the UN Globally Harmonised System and EU REACH programs with individual Consultant Toxicologist peer reviewed risk assessment.
The GreenTag HealthRATE™ marks ranges from Bronze (indicating a product has achieved a Good HealthRATE) through to Silver (Very Good), Gold (Excellent) and Platinum (World Leading).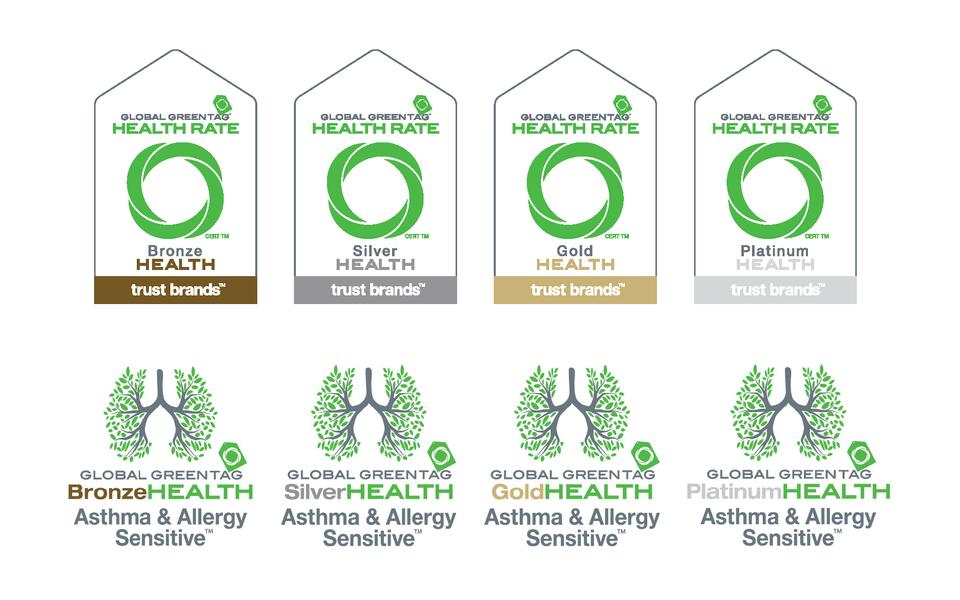 "Making these levels of metrics available and clear for consumers is essential in this day and age because consumers have become increasingly aware and cautious about product toxicity and demand greater transparency," says GreenTag's Program Director.
"End users and consumers with specific medical concerns now have on the back of our PHDs the detailed ingredient information they need, to get detailed individual advice from their medical practitioners about products they are looking to bring into their workplaces or homes"


Behind the development of GreenTag's Product Health Declaration™ or GreenTag PHD™ were the worrying statistics from studies that make connections between toxic products and human health issues, and the need for firmer risk mitigation strategies to be brought into the supply chain to help prevent toxic products being used in workplaces and homes.
Studies have already revealed that product toxicity found in buildings is a very real cause behind a range of human health problems – even to unborn babies – including cancer, hormone disruption, asthma, allergies, chronic fatigue and many other toxicity related illnesses."
"Even an 'indoor environment' study, published by the American Chemical Society, found a concerning combination of chemicals present and leaching or gassing off from products that people take in daily through their skin and airways in a range of typical indoor scenarios. "
In Australia as well, businesses have been losing up to over $34 billion annually in lost production and wages due to employee absenteeism. Yet what is largely unknown by Australian business owners, is that toxic ingredients hidden in products used in workplace buildings are a significant culprit of workplace sickness.
"On the other hand, there's proof from a variety of studies that healthier products used in buildings are linked to the incidence of healthier occupants. It was shown in one workplace study conducted in Australia by Sustainability Victoria, who retrofitted their own offices with a range of strategies, including low toxicity products, that employees became healthier as a result. In fact, sick leave was reduced by 30% and productivity went up an extraordinary 45%."
Through the PHD program, GreenTag is dedicated to highlighting that healthier products are available on the market and are markedly different from business as usual products.
Currently, a Global GreenTag PHD has formal WELL™ Building Standard Equivalencies recognised globally for core product-related Features and the tool is also compliant with the LEED® program, used in 168 countries that has significantly upgraded its criteria for materials transparency and optimisation.
The WELL features that the GreenTag PHD is recognised under are:
FEATURE 04: VOC Reduction, PART 1: Interior Paints and Coatings, PART 2: Interior Adhesives and Sealants, PART 3: Flooring, PART 4: Insulation, PART 5: Furniture and Furnishings;
FEATURE 11: Fundamental Material Safety PART 1a: Asbestos Restriction;
FEATURE 26: Enhanced Material Safety: PART 1: Precautionary Material Selection
FEATURE 97: Material Transparency, PART 1: Material Information.
In order to achieve Global GreenTag Product Health Declaration™, manufacturers are required to provide 100 percent transparency – to 100 parts per million – of any product's individual ingredients' toxicity information. Products must also be certified to Version 4.0+ of the Global GreenTag Certification Standard. Products that are certified under the Global GreenTag Certification Standard Version 3.2 will need to undergo an upgrade process to qualify for application.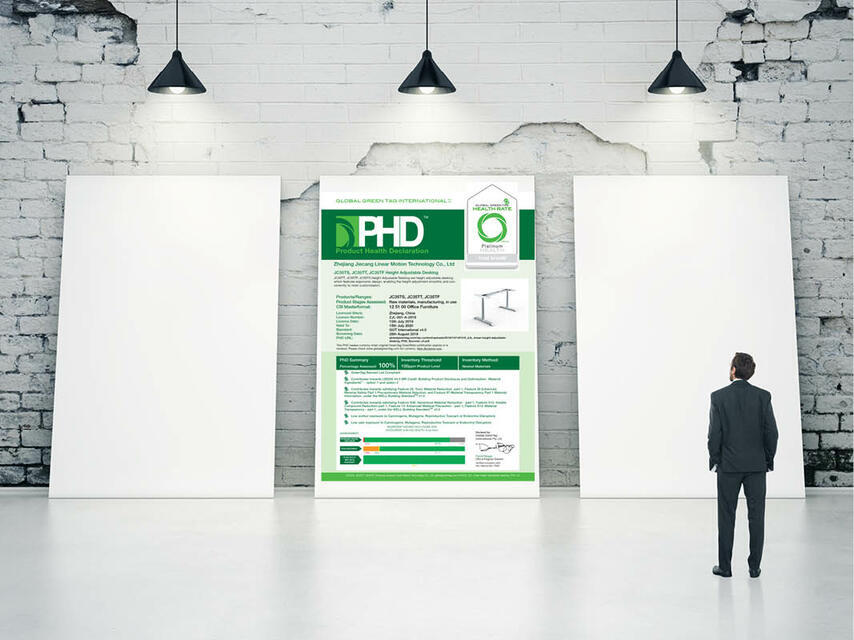 The GreenTag PHD:
Supports product manufacturers "doing the right thing" who are prepared to disclose toxicity information.
Reduces risks for building professionals to confidently make distinctions between products that are safer for human health and those that are not and, make it easier to communicate health related product decisions to clients/and building occupiers.
Respects the rise up of conscious consumers, who studies show want healthier choices and greater access to more authentic product information, which they can trust because "Absolute transparency brings total peace of mind".
<b>For more information or to talk further about having your product assessed for a GreenTag PHD and HealthRATE mark (Bronze, Silver, Gold or Platinum) or Asthma & Allergy Sensitive HealthRATE mark, please contact:
How will you use GreenTag?
Manufacturers:
Make your product stand out, unlock the barriers to major markets.
Get Global GreenTag certification to stand out as a leader, differentiate your product from the pack and win in the rapidly expanding green marketplace.
Green consumers:
Create your own healthy, sustainable home, interiors and lifestyle.
Discover our work with the Beauty & Personal, Cleaning and Building & Interiors industries or find out more about GreenTag.
Global GreenTag certified products pass the world's toughest standards to protect you, and your family's health and safety, minimise your impact on our finite planet and put the power of selection back in your hands.
Professionals:
Save time and money selecting products that deliver and protect your business from risk.
Find out how Global GreenTag certified products pass the worlds toughest standards for health, eco performance and safety.
Recognised by major green rating schemes, GreenTag is your one-stop certification to choose for evidence product selections.