Global GreenTag Environmental Product Declarations - EPD and CarbonRATE™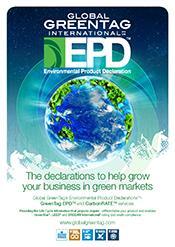 The Global GreenTag Environmental Product Declarations (GreenTag EPDs) provide Life Cycle Analysis summary results about products' environmental impacts for manufacturers who want to take their products further in green markets – especially on projects using green rating tools and undertaking whole project Life Cycle Analysis (LCA) credits in those tools.
Download a brochure

"We learned to know our products a lot better through GreenTag certification ... We have definitely been able to be specified on larger projects and also with the EPDs Internationally as well (with ISO 14025 projects, including for Google, New York University in Abu Dhabi and Howard University)."
Helle Rex, Marketing Project & CSR Manager, Howe (2018)
GreenTag EPDs provide the deep Life Cycle Information that benchmark sustainability projects require.
Products are assessed under an ISO 14025 compliant Environmental Product Declaration Program, and where requested or relevant to local scheme requirements, a GreenTag EPD can also be reported in accordance with ISO 21930 or EN 15804.
Used around the globe, relevant GreenTag EPDs are compliant with the following green building rating tool credits, including:
LEED® (in over 167 countries, including USA and China);
BREEAM® (in more than 78 countries, including UK, EU and China);
Green Star® (used in over 56 countries, including Australia, New Zealand and Africa) and,
The Infrastructure Sustainability 'IS' tool that is used in over 5 countries, including Australia, NZ and China.
Once GreenTag EPDs are completed, GreenTag also awards each product with a CarbonRATE™ TAG that provides instant visibility of a product's carbon performance metrics - beneficial for projects in countries like the EU, China and NZ that are rapidly expanding levels of renewable or clean energy in their supply chains due to legislation and market movements.

Read more about the EPD development program under Global GreenTag.
For more information or to talk further about having your product assessed for a GreenTag Environmental Product Declaration and CarbonRATE TAG, please contact:
How will you use GreenTag?
Manufacturers:
Make your product stand out, unlock the barriers to major markets.
Get Global GreenTag certification to stand out as a leader, differentiate your product from the pack and win in the rapidly expanding green marketplace.
Green consumers:
Create your own healthy, sustainable home, interiors and lifestyle.
Discover our work with the Beauty & Personal, Cleaning and Building & Interiors industries or find out more about GreenTag.
Global GreenTag certified products pass the world's toughest standards to protect you, and your family's health and safety, minimise your impact on our finite planet and put the power of selection back in your hands.
Professionals:
Save time and money selecting products that deliver and protect your business from risk.
Find out how Global GreenTag certified products pass the worlds toughest standards for health, eco performance and safety.
Recognised by major green rating schemes, GreenTag is your one-stop certification to choose for evidence product selections.