Global GreenTag Best Environmental Practice PVC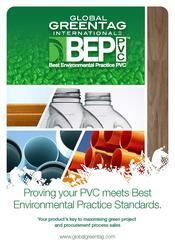 The Global GreenTag Best Environmental Practice PVC program is primed to meet and prove claims by manufacturers who are pushing the boundaries of what is possible for PVC products and across a number of categories from flooring to cables, blinds, pipes and permanent formwork.
Download a brochure
GreenTag's BEP PVC certification program was instituted following development of new criteria for all Green Star® rating tools by the Green Building Council of Australia (GBCA) and New Zealand (GBCNZ) in association with the Vinyl Council of Australia (VCA).
GreenTag developed the BEP PVC program to come under the new Green Star rating tools Responsible Products – PVC credit and since introduction, development companies, like the Australian Defence Forces and Lend Lease have led the way, announcing that they will only be calling for BEP PVC products in their tender opportunities.
PVC products that have achieved Global GreenTag GreenRate certification can earn points under the Green Star 'Sustainable Products' credit, however, such certification does not remove the consideration of products from the 'Responsible Building Materials' credit if they are pipes, cables, flooring, permanent formwork or blinds.
To have products assessed for a GreenTag BEP PVC, please contact:
International & ANZ: Tyann Scott, (phone) +61 7 3399 9686
ANZ Sales: Skylar Wu, (phone) +61 7 3399 9686
North America: Daniel A. Huard, (phone): +1 949.438.3640 (mobile) +1 702.604.3359
South Africa: Lizette Swanevelder, (phone) +27 21 790 0286 (mobile) +27 82 770 6552
Kenya: John Kalungi Kabuye, (phone) +254 722 789 603
Malaysia: Nic Chin, (phone) +603 2858625
or, contact Carron Lee for sustainable product certification sales: (phone) +6013 351 8046
Mainland China: DI WU (Woody), (phone) +86 010-88082316 or +86 010-88082322
Taiwan & Hong Kong: Cricket Liu, (phone) +86 0 5923500085-805 (mobile) +8613850 006 035
Republic of Korea: Noh-hyun Lim, (phone) +82-(0)2-6956-7705 (mobile) +82-(0)10-2704-2010
or, Hanbi Kim, (phone) +82-(0)2-6956-7705 (mobile) +82-(0)10-2540-9565
How will you use GreenTag?
Manufacturers:
Make your product stand out, unlock the barriers to major markets.
Get Global GreenTag certification to stand out as a leader, differentiate your product from the pack and win in the rapidly expanding green marketplace.
Green consumers:
Create your own healthy, sustainable home, interiors and lifestyle.
Discover our work with the Beauty & Personal, Cleaning and Building & Interiors industries or find out more about GreenTag.
Global GreenTag certified products pass the world's toughest standards to protect you, and your family's health and safety, minimise your impact on our finite planet and put the power of selection back in your hands.
Professionals:
Save time and money selecting products that deliver and protect your business from risk.
Find out how Global GreenTag certified products pass the worlds toughest standards for health, eco performance and safety.
Recognised by major green rating schemes, GreenTag is your one-stop certification to choose for evidence product selections.