Product: Porter's Paints Eggshell Finish – DTB Base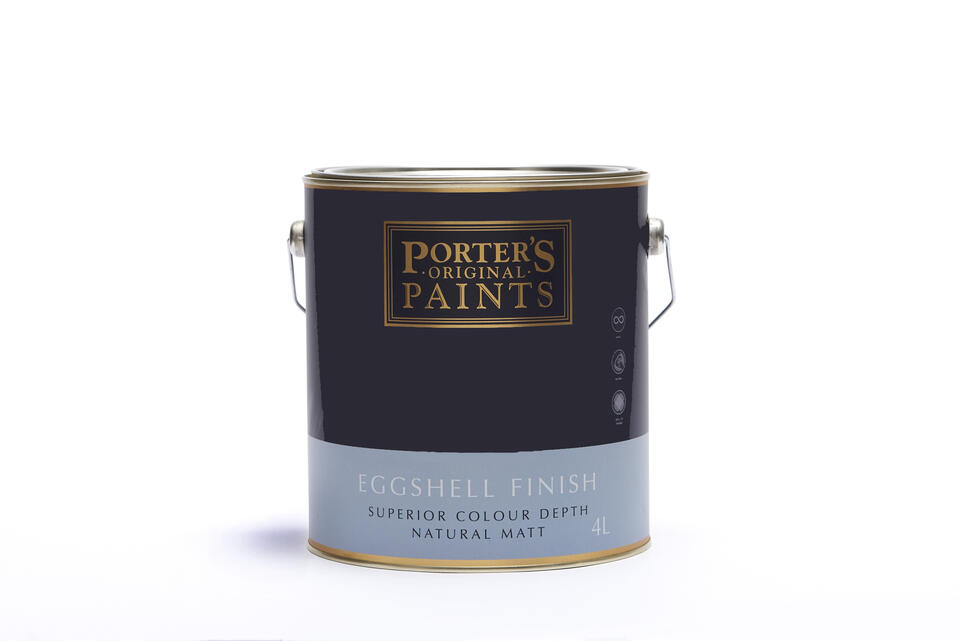 About
Porter's Paints Eggshell Finish - DTB Base
TOP 3 Benefits
Health and Ecotoxicity
Fit for Purpose
Low VOC emission
Porter's Paints Eggshell Finish is a low VOC (2-5g/L) water- based paint.
This product is an acrylic paint that gives walls and other surfaces a low reflective finish. The finish is fully washable. The paint can be used for both interior and exterior applications including masonry and woodwork.
Coverage specifications is approximately 12-14m2 per litre. The paint is available in 1 litre, 2 litres, 4 litres, 10 litres and 15 litres.
Achievements:
Health & Ecotoxicity
Healthy VOC levels
Low toxicity - no toxicity in use
Not ozone depleting
Corporate Social Responsibility
All marketing environmental claims verified accurate
Complies with relevant social and environmental laws of the country of operation
Environmental Management System
Ethical supply chain
Fit for Purpose certified
Manufacturer take back policy
Manufacturer take back policy (verified)
Replacement parts available
Australian Made
Assembled in Australia from majority imported components
Ratings Tools
Green Star AU - GBCA
IS Rating - ISCA
WELL Features - IWBI
Construction Code Compliance
Australian National Construction Code
More information:
The product is GreenTag GreenRate Level A Certified under Scheme A21.
The scope of certification includes untinted bases (Standard, Mid, Deep, Clear & Black) and pre-tinted colours ( Aniseed, Baby Doll, Bayleaf, Dragon's Eye, Dusty Mule, Explorer Blue, French Green, Gunmetal Grey, Hailstorm, Hampton's Blue, Mineral, Mist, Old Stone Wall, Popcorn, River Stone, Rubble, Shell Grey, Squid Ink, Sundance, Half Woodsmoke, Irish Linen, Petal Pink, Timberline, Dark Newport Blue, Chintz Grey, Volcanic Ash, Gulf Stream, Yacht Race, Newport Blue, Alpen, Olive Grove, Highlands).
The products have successfully passed the relevant GreenTag Standard's Cautionary Assessment Process and there are issues of concern post ESCAP which are addressed through Paint label instructions detailing that "Use protective clothing and equipment's when painting"
---
Certified under:
Global GreenTag Standard v4.0
Rating tools relevance:
GreenStar® "Buildings" v1.0 Rating tool:
Responsible Finishes
Exposure to Toxins
GreenStar® "Design and As Built v1.3" and "Interiors v1.3" Rating Tools Credits:
Sustainable Products
Indoor Pollutants
GreenStar® "Design and As Built v1" and "Interiors v1" Rating Tool:
Sustainable Products
Indoor Pollutant (VOC or Formaldehyde emission)
GreenStar® "Railway Stations v1.0" Rating Tool:
GreenStar® "Performance 1.2" Rating Tools Credit:
Infrastructure Sustainability Rating Tool v1.0 ANZ:
MAT-2 Environmentally labelled products and supply chains
Earthcheck Rating Tool:
Vietname LOTUS Rating Tool:
M-1 Sustainable Materials
GreenTech Malaysia's MyHIJAU Ecolabelling and Green Products Database:
All Green Building and Interiors Products
How will you use GreenTag?
Manufacturers:
Make your product stand out, unlock the barriers to major markets.
Get Global GreenTag certification to stand out as a leader, differentiate your product from the pack and win in the rapidly expanding green marketplace.
Green consumers:
Create your own healthy, sustainable home, interiors and lifestyle.
Discover our work with the Beauty & Personal, Cleaning and Building & Interiors industries or find out more about GreenTag.
Global GreenTag certified products pass the world's toughest standards to protect you, and your family's health and safety, minimise your impact on our finite planet and put the power of selection back in your hands.
Professionals:
Save time and money selecting products that deliver and protect your business from risk.
Find out how Global GreenTag certified products pass the worlds toughest standards for health, eco performance and safety.
Recognised by major green rating schemes, GreenTag is your one-stop certification to choose for evidence product selections.