Product: Polysafe Wood fx Acoustix PUR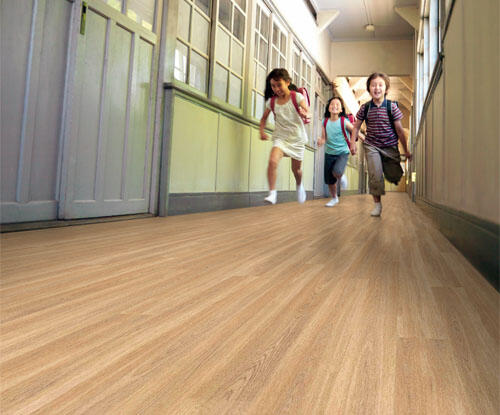 About
Polysafe Wood fx Acoustix PUR
TOP 3 Benefits:
Health & Ecotoxicity
Durability
Take Back Scheme
Polyflor's Polysafe Wood fx Acoustix PUR is heterogeneous sheet flooring made from polyvinyl chloride (PVC) and features cross-linked polyurethane reinforcement (PUR). The use of PUR significantly reduces maintenance requirements. The product is ideally suited for heavy traffic area that requires a hard-wearing floorcovering, such as retail, hospitality, healthcare and educational facilities.
Achievements:
Health & Ecotoxicity
Healthy VOC levels
Low toxicity - no toxicity in use
LCA
Life Cycle Analysis - Water
Water footprint available
Life Cycle Analysis - Resources
Designed for recycling or reuse
Life Cycle Analysis - Greenhouse Gas
Carbon footprint available
Corporate Social Responsibility
≥10 year warranty
Certified Environmental Management System
Complies with relevant social and environmental laws of the country of operation
Fit for Purpose certified
Manufacturer take back policy
Replacement parts available
More information:
Polysafe Wood fx Acoustix PUR has been compared to an industry standard Nylon Broadloom carpet (no cushion) product which serves as the business as usual for the floor covering product category. The life cycle inventory data compiled for the BAU product was obtained from industry study.
The product uses an expanding agent which contains ADCA (CAS number 123-77-3). ADCA is categorised with R42 (may cause sensitisation by inhalation) and R44 (risk of explosion if heated under confinement). It is also on the Candidate List of Substances of very high concern for Authorisation. ADCA is used to produce foam backing via purposeful reaction. This ingredient is encapsulated with the final flooring product, so there is very rare chance that end uers will be irritated by inhalation. The risk is more likely to happen during the manufacturing process of foam backing and expanding agent itself. Polyflor and its expanding agent supplier provided sufficient evidence that the occupational risks are mitigated. The products have successfully passed the relevant GreenTag Standard's Cautionary Assessment Process and no issues of concern or red lights comments exist regarding the toxicity of the products.
The scope of certification includes PVC sheet flooring of 3.7mm thickness, with density of 2.55kg/m2. The scope of certification includes PVC sheet flooring of 3.7mm thickness, with density of 2.67kg/m2
---
Certified under:
Global GreenTag Standard v3.2
Rating tools relevance:
GreenStar 'Design and As Built v1' and 'Interiors v1' Rating Tools Credits:
o Sustainable Products Level A
GreenStar ' Performance v1' Rating Tools Credits:
o Procurement and Purchasing: Refurbishment Materials
How will you use GreenTag?
Manufacturers:
Make your product stand out, unlock the barriers to major markets.
Get Global GreenTag certification to stand out as a leader, differentiate your product from the pack and win in the rapidly expanding green marketplace.
Green consumers:
Create your own healthy, sustainable home, interiors and lifestyle.
Discover our work with the Beauty & Personal, Cleaning and Building & Interiors industries or find out more about GreenTag.
Global GreenTag certified products pass the world's toughest standards to protect you, and your family's health and safety, minimise your impact on our finite planet and put the power of selection back in your hands.
Professionals:
Save time and money selecting products that deliver and protect your business from risk.
Find out how Global GreenTag certified products pass the worlds toughest standards for health, eco performance and safety.
Recognised by major green rating schemes, GreenTag is your one-stop certification to choose or evidence product selections.