Product: Extruded PVC Accessories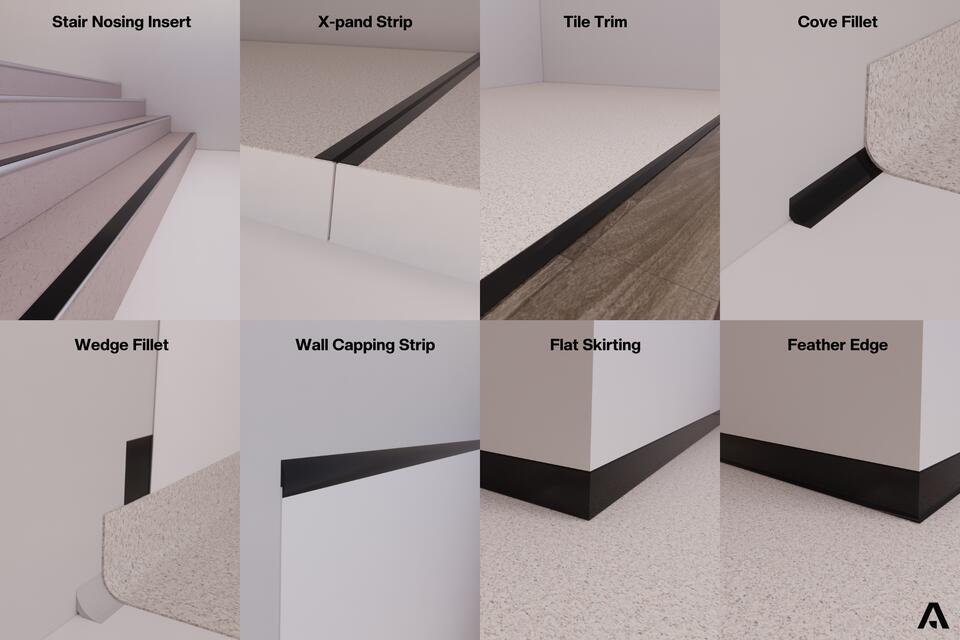 About
Extruded PVC Accessories
TOP 3 Benefits
Health & Ecotoxicity
Best Practice PVC
Certified Environmental Management System
Armstrong Flooring locally manufacture a complete range of vinyl flooring installation accessories to ensure correct installation and add the finishing touch.
The following accessories are available in a range of colours:
Feather Edge Skirting - Flexible vinyl skirting with a coved base (toe) and tapered top edge for use as a wall finish
Flat Skirting - Flat flexible vinyl skirting with tapered edges for use as a wall finish with carpet installations, bump strips or kick plates on doors
X-pand Strip - Flexible cover strip for installation over expansion and control joints. Use in conjunction with sheet and tile vinyl flooring. May be heat welded to sheet vinyl. Available in 2mm and 3mm thickness
Wall Capping - Finishing strip to cover the exposed edge of vinyl wall or coved floor sheet on vertical surfaces. Can also be used as a finishing strip to the exposed edge of floor vinyl
Tile Trim - Reducing strip to provide a flush finish at floor covering edges tapering to a neat finish with the adjacent floor. Available in 2mm, 3mm and 5mm thick
Tile Trim 8mm - Reducing strip to provide a flush finish at floor covering when installed on hardboard or cement sheet underlay tapering to a neat finish with the adjacent floor
Cove Fillet - Provides a properly shaped radius section at floor to wall transition to act as a supporting base for coved sheet vinyl flooring. Available in 20mm x 20mm and 32mm x 32mm
Wedge Fillet - Diminishing strip used to equalise the thickness difference between coved floor vinyl and Wallflex wall vinyl, allowing a fully heat welded installation
Stair Nosing Insert - Flexible insert for fitting to aluminium or brass stair nosing to give a slip-resistant finish
Safety Glo Strip 50mm - Flexible insert incorporating a glow in the dark stripe of high-quality photo luminescent pigment for faster charging and longer glow. Suitable for aluminium and brass stair nosing, bump guards, low light directional aid colours – Black and Glo
Achievements:
Health & Ecotoxicity
Best Practice PVC Certified
Healthy VOC levels
Low toxicity - no toxicity in use
Corporate Social Responsibility
≥15 year warranty
All marketing environmental claims verified accurate
Certified Environmental Management System
Complies with relevant social and environmental laws of the country of operation
Environmental Management System
Fit for Purpose certified
Replacement parts available
Ratings Tools
Green Star AU - GBCA
WELL Features - IWBI
Construction Code Compliance
Australian National Construction Code
More information:
The product is GreenTag GreenRate Level A certified under Scheme A7
The products have successfully passed the relevant GreenTag Standard's Cautionary Assessment Process and no issues of concern or red lights comments exist regarding the toxicity of the products
---
Certified under:
Global GreenTag Standard v4.0
Rating tools relevance:
GreenStar 'Building v1.0' Rating Tools Credits:
GreenStar "Design and As Built v1.3" and "Interiors v1.3" Rating Tools Credits:
Sustainable Products
Responsible Building Materials
GreenStar "Performance 1.2" Rating Tools Credit:
How will you use GreenTag?
Manufacturers:
Make your product stand out, unlock the barriers to major markets.
Get Global GreenTag certification to stand out as a leader, differentiate your product from the pack and win in the rapidly expanding green marketplace.
Green consumers:
Create your own healthy, sustainable home, interiors and lifestyle.
Discover our work with the Beauty & Personal, Cleaning and Building & Interiors industries or find out more about GreenTag.
Global GreenTag certified products pass the world's toughest standards to protect you, and your family's health and safety, minimise your impact on our finite planet and put the power of selection back in your hands.
Professionals:
Save time and money selecting products that deliver and protect your business from risk.
Find out how Global GreenTag certified products pass the worlds toughest standards for health, eco performance and safety.
Recognised by major green rating schemes, GreenTag is your one-stop certification to choose or evidence product selections.